DNA Test Results

latest update 30 Dec 2021

Return to Front Page
DNA testing has revolutionized family research. There are privacy issues with these tests however, after consideration, I decided to go ahead. In August 2017 I took the Ancestry DNA test. Simply spit into the test tube, post it back and await results. The results consist of an ethnicity estimate and a list of other Ancestry clients who match. I prepared for unexpected results. There were some small but no large surprises. It mostly confirms the research I have to date. Family members I knew topped the list and others below are relatives, some of who I know through my research. Beyond that several people appeared the family did no know, and I noticed some branches not appearing at all. Fairly normal I understand.

Many more distant connections seem to go back to the Irish and Scottish diasporas, generations before reliable records can be found.

Later, curiosity saw me testing with 23andMe and FamilyTreeDNA. My understanding is these two companies, along with Ancestry, have most of the market. Each company has different and evolving client bases and ethnicity algorithms, thus the variations. The FamilyTreeDNA test included Y-DNA and mtDNA results.

Ancestry August 2017 results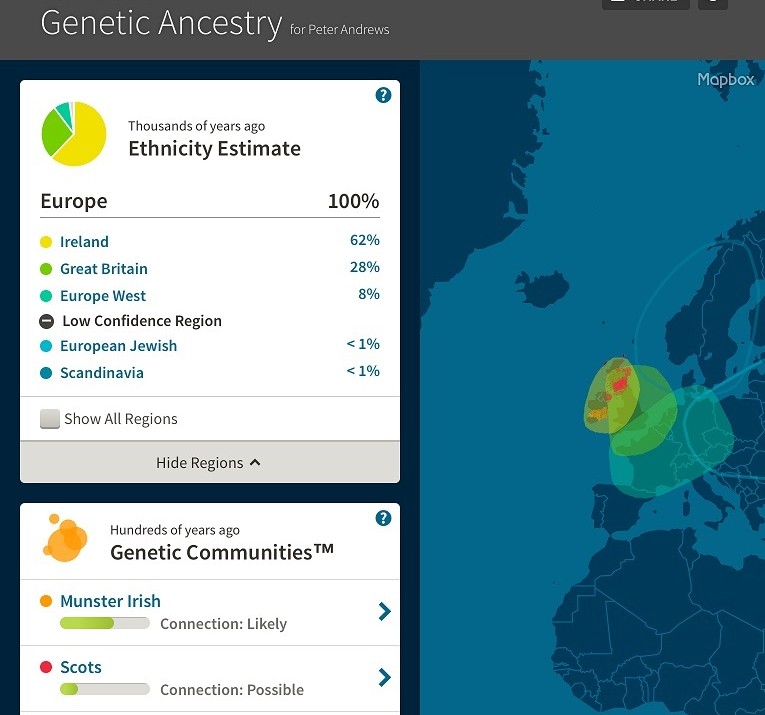 ---
OK, September 2018 Ancestry refined their calculations.
Thus the revised estimate.
Packing away my Yarmulke and Viking helmet.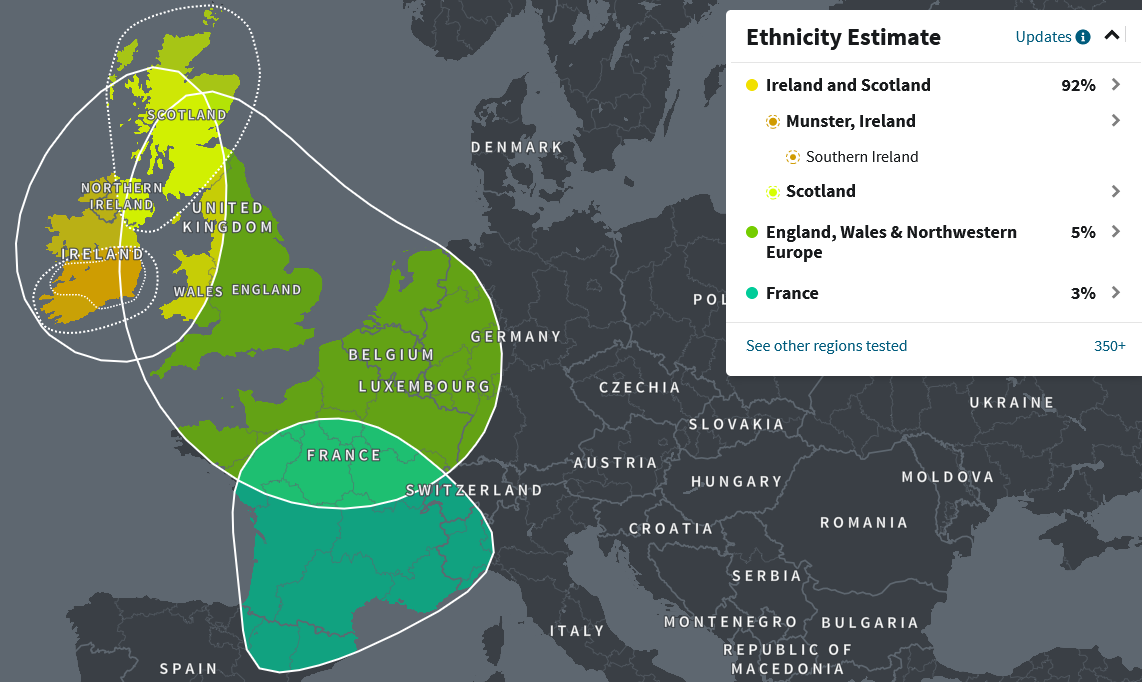 ---
Ancestry 2019 estimate
.
Some more fine tuning.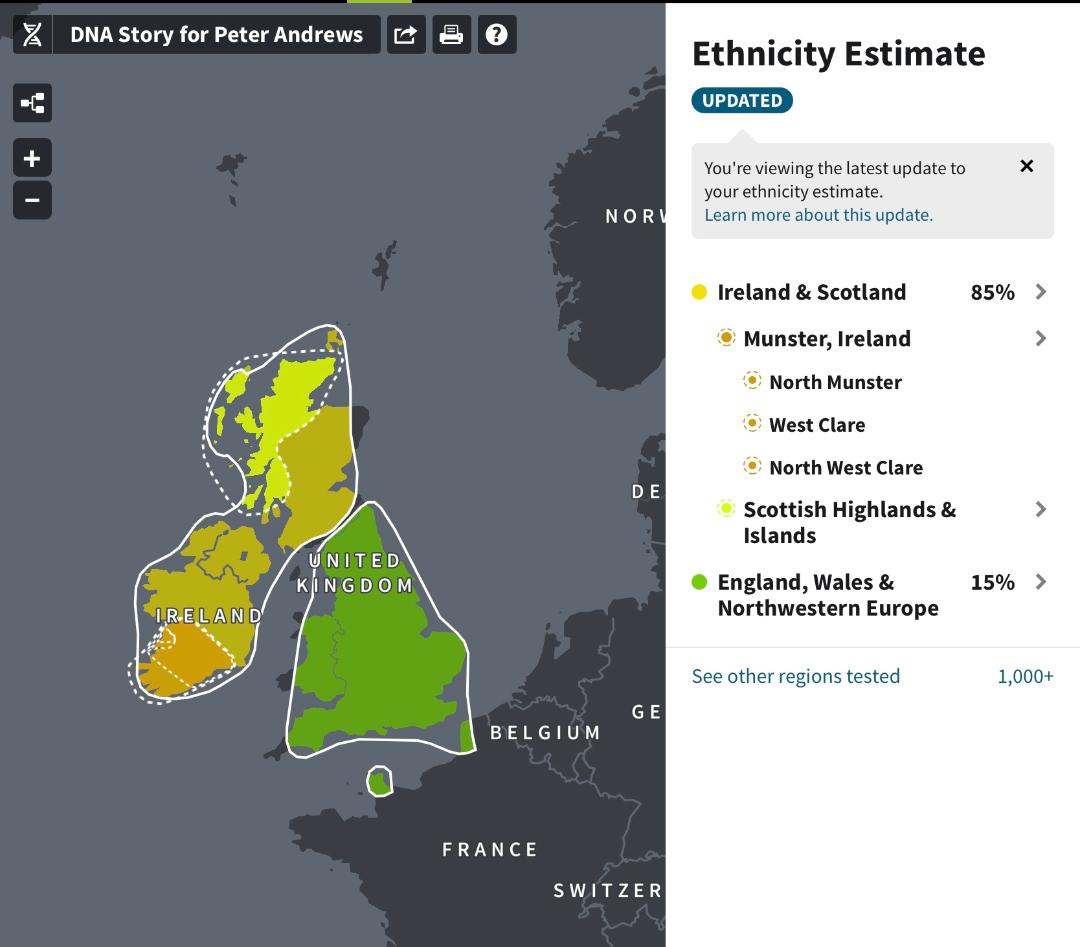 ---
2020 Estimate
.
More fine tuning.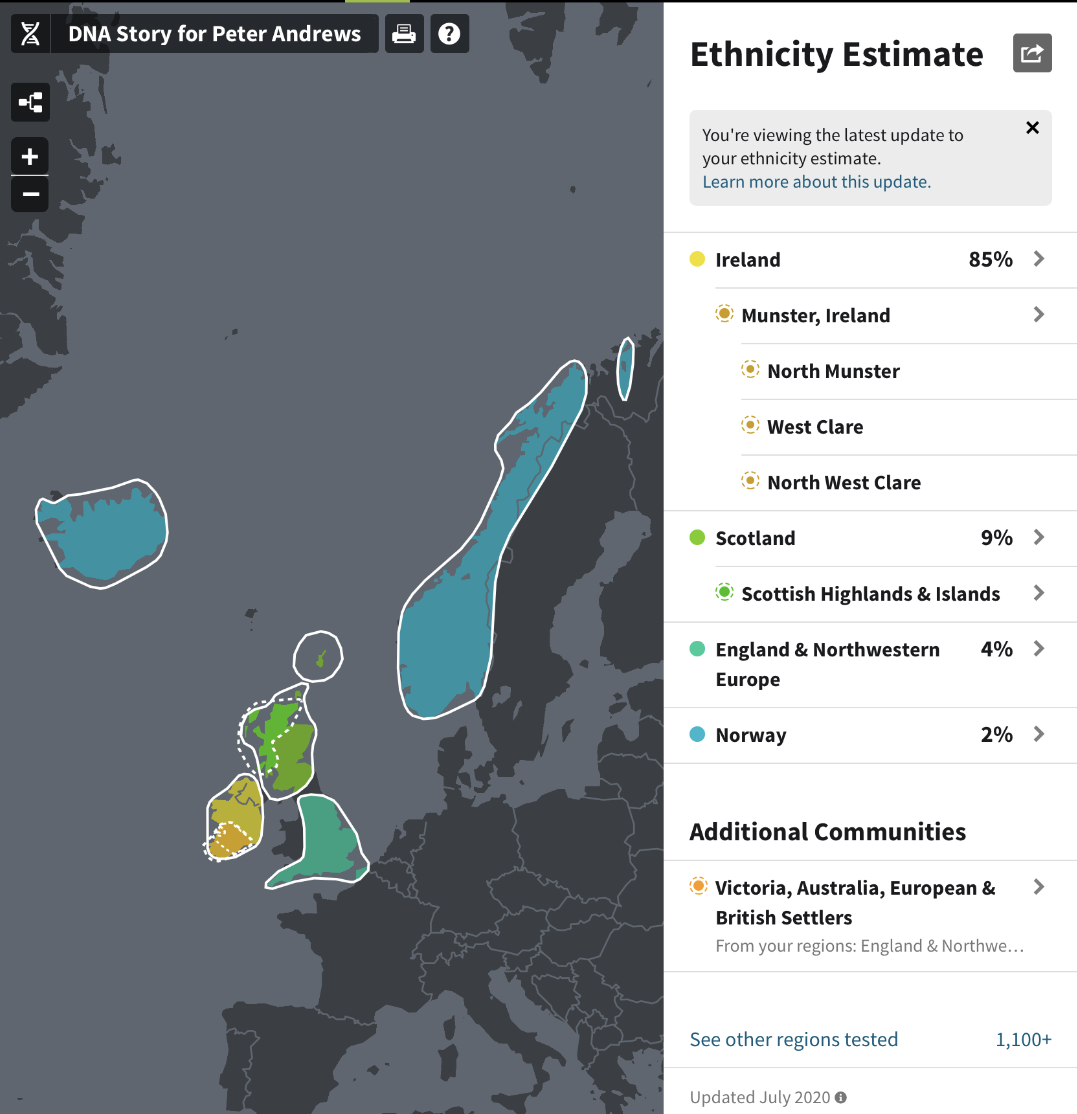 ---
2021 Update
A little less Irish and a little more Scots.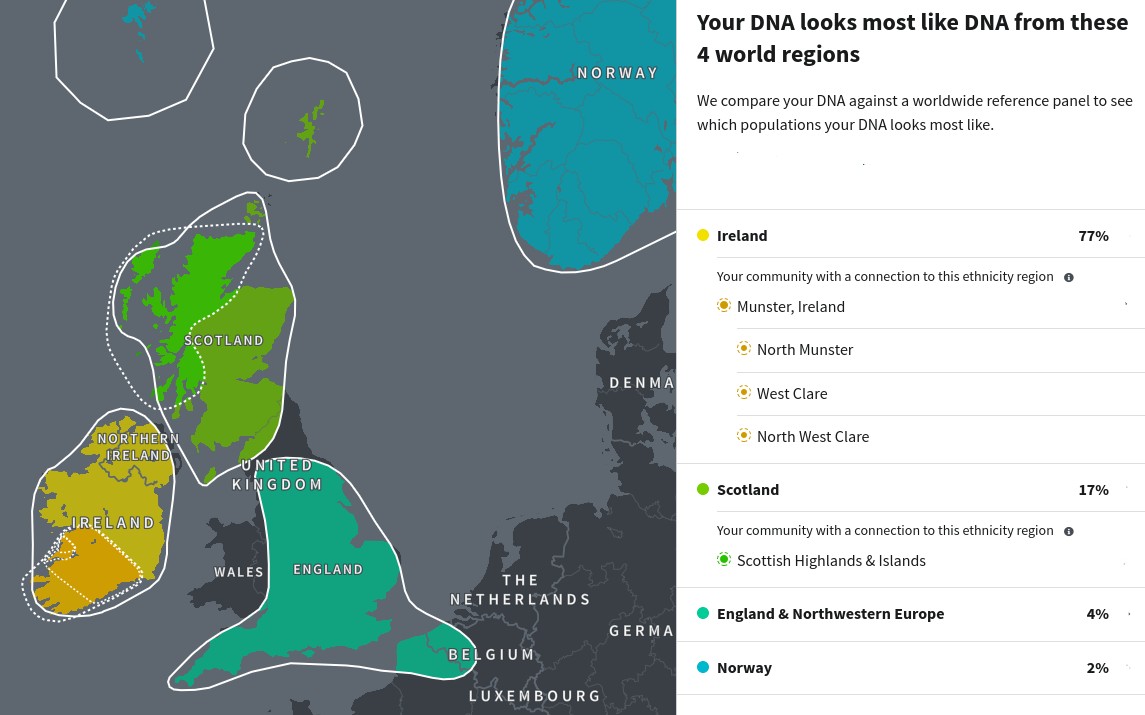 ---
FamilyTreeDNA Ethnicity Summary 2021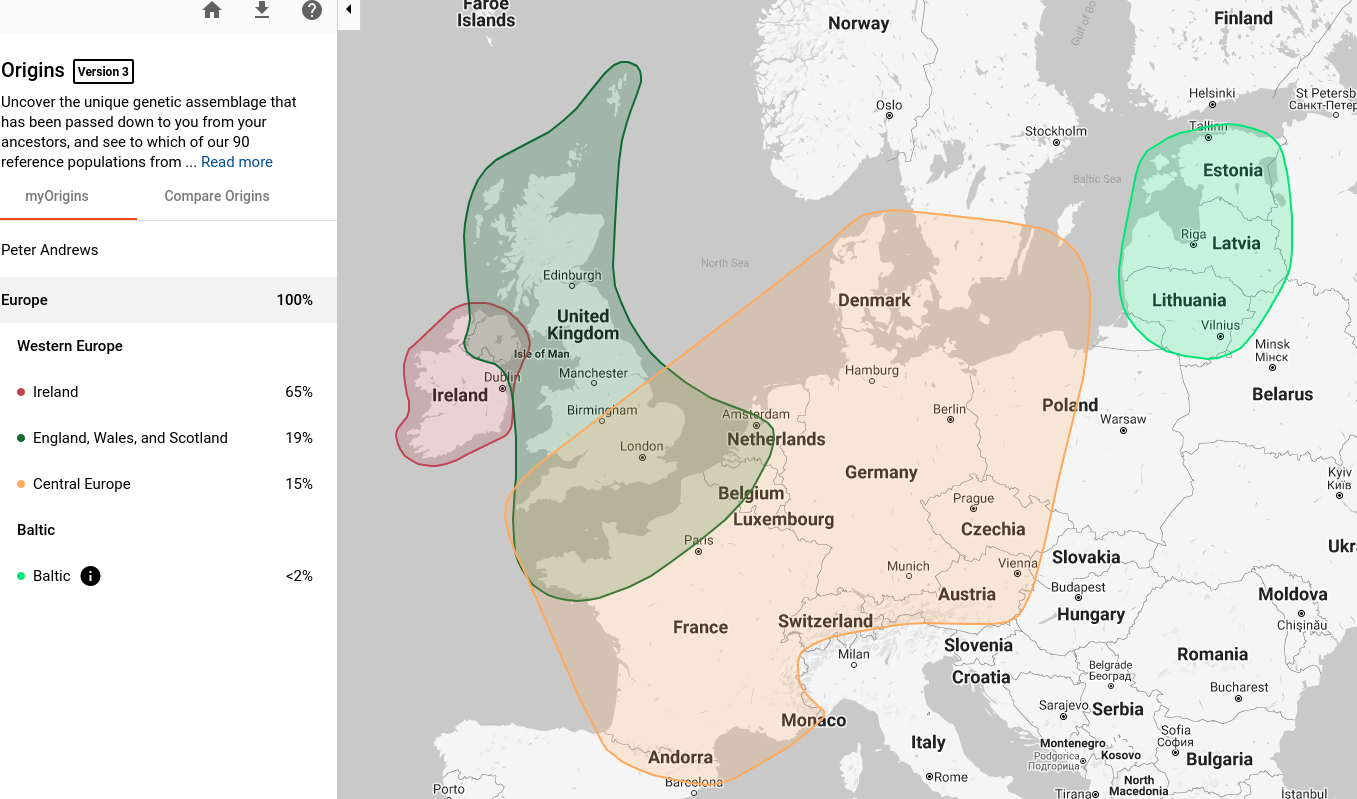 ---
23andMe ethnicity results 2021
(Love the hint of ancient Egypt)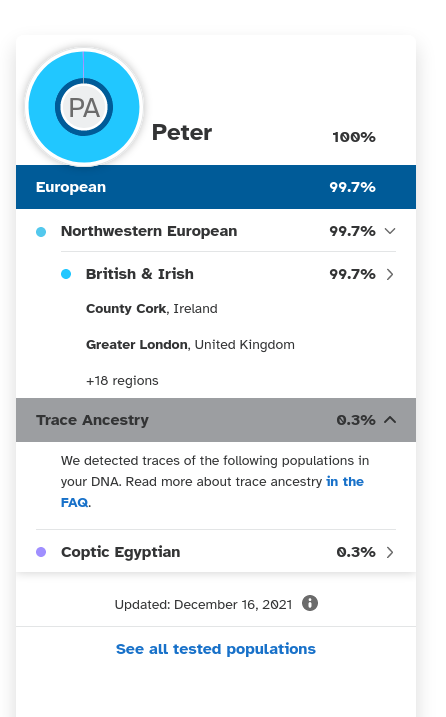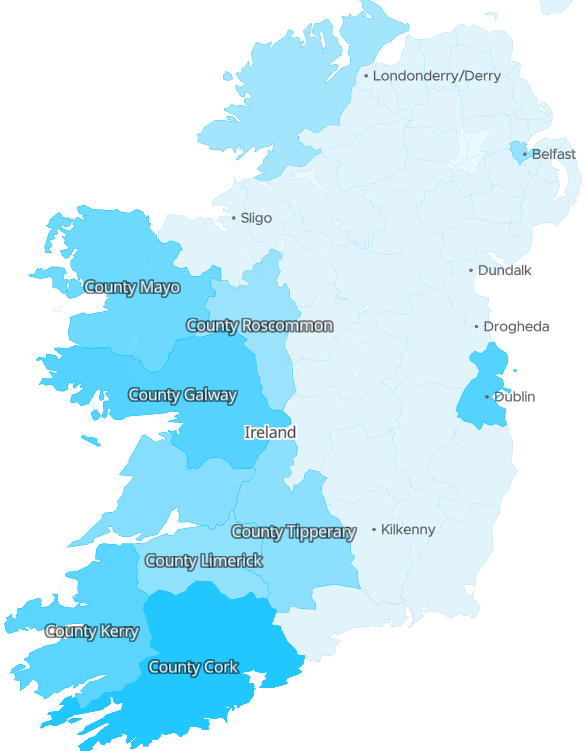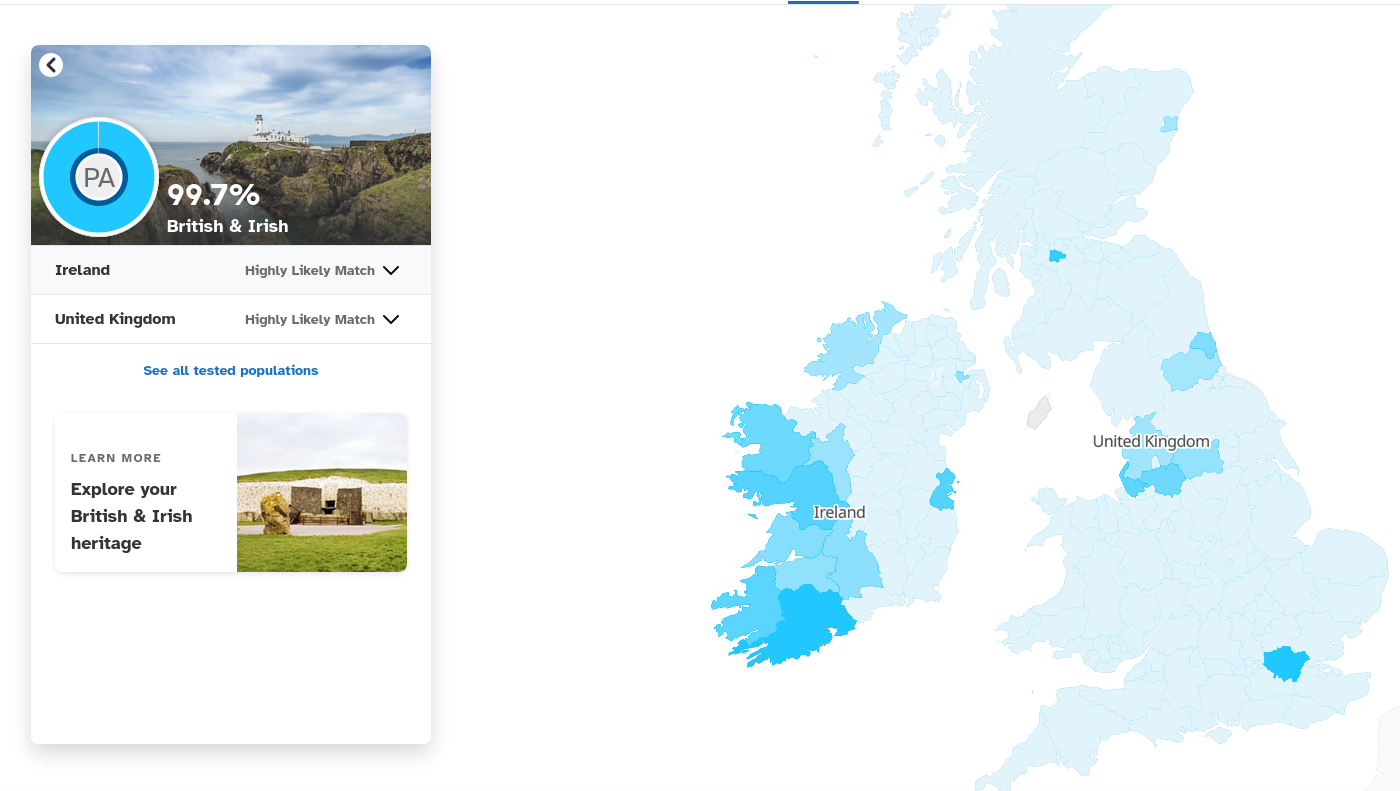 ---
All GG Grandparents emigrated to Australia from the UK or Ireland in the 1800s.



| | | |
| --- | --- | --- |
| Name | Origin | Birth |
| John Andrews | Verwood, Dorset, England **Y-DNA Ancestor | 1801 |
| Bridget Tracey | Ballinasoe or Galway, Ireland | 1819 |
| John Straker | York, England | 1815 |
| Mary Ann Boyd | Dublin, Ireland | 1822 |
| Thomas Hanrahan | Clare, Ireland | 1820 |
| Cecilia Manley | Mayo, Ireland | 1835 |
| Patrick O'Hara | Tipperary, Ireland | 1837 |
| Margaret Murphy | Queens, Ireland | 1839 |
| Joseph Holland | North Rode, Cheshire, England | 1829 |
| Bridget Cassidy | Belturbet, Caven, Ireland | 1831 |
| Daniel Clarke | Mallow, Cork, Ireland | 1831 |
| Margaret Maroney | Clare, Ireland | 1831 |
| James Hayhoe | North Elmham, Norfolk, England | 1806 |
| Susan Whatley | North Elmham, Norfolk, England | 1807 |
| Ross Davidson | Port Glasgow, Scotland | 1816 |
| Esther Ross | Edderton, Ross,Scotland **mtDNA Ancestor | 1822 |
So nine Irish(57%), five English(31%) and two Scots(12%) ancestors
---
Autosomal DNA


Autosomal DNA tests cover all family relationships in the not too distant past.
Ancestry provide the maps above and identifies close matches (if the person so desires)
I have made some progress in pushing the tree back a generation or so.
---
Y-DNA Result
.
My Haplogroup is
R-M269
My paternal line goes back to Thomas Andrews from Dorset, England in the 1700s.
"...This is a very common European haplogroup that came out of Africa about 50,000 years ago.
It moved through the Middle East and Central Asia to Europe in the last 10-20 thousand years...."
No useful information on my specific tree has been found.
---
mtDNA Result.


My Haplogroup is
H15a1
My maternal line leads back to Esther McKay Ross from Rossshire in the Scottish highlands
"...Mitochondrial haplogroup H is a predominantly European haplogroup that originated outside of Europe
before the last glacial maximum (LGM). It first expanded in the northern Near East
and southern Caucasus between 33,000 and 26,000 years ago, and later migrations from Iberia
suggest it reached Europe before the LGM. It has also spread to Siberia and Inner Asia.
Today, about 40% of all mitochondrial lineages in Europe are classified as haplogroup H...."
Interesting but nothing added to my tree.
---
Links to Wikipedia
Genetic history of Europe
Prehistoric Britain
Historical immigration to Great Britain