The Brown family story start with the christening of Matthew Hill Brown in the church of St Mary the Virgin on Dover Kent in 1819. The parents were Matthew and Amelia. Matthew Hill Brown married a Rebecca Tottman in 1840. The children were , Henry, Alice, John and Charles Alfred, William and Matthew were christened in Colchester, Essex in the following years. There may have been others.

Looking at Charles Alfred's birth certificate shows Matthew Hill Brown's occupation as a Cabinet maker (journeyman) and the address was North Street, St Peters, Colchester. Charles Alfred Brown was born 6 August1857. His occupation was recorded as a cabinet maker and later as a tally clerk (wharf). In about 1885 he married Emily Kirby. He died in 1941 aged 83 years in Devizes, Wiltshire Emily (Kirby) Brown died in 1935. Her death certificate gives an address of 21 Chalk Road in, I believe, Plaistow, West Ham. It names as informant A.E. Greenshields, daughter.

Frank and John Henry "Harry" Brown perished in World War 1

Florence (Auntie Florie), and brothers Fred and Horace emigrated to Australia. It is said "If ever there was a black sheep of the family it was Fred but a great guy…they tell stories lovingly"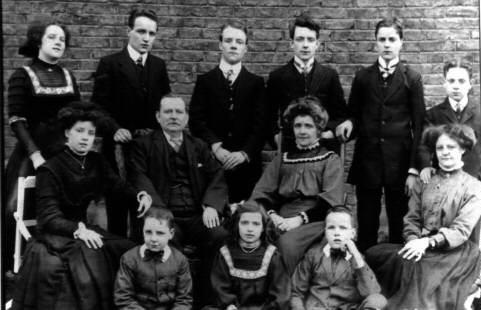 Back row: Florie, Charlie, George, Fred, Bill, Frank
2nd Row : Alice, Charles Alfred Brown, Emily (Kirby) Brown , Annie
Front Row: Horace, Emily, Harry
---