---
This is an informal list of the certificates I have on hand concerning our Cecilia Manley and her family. They are in chronological order.
Thomas and Cecilia could not write. Thus they may not have even known how to spell their own names.
They would have spoken to a scribe but with accents and misspellings the variations can be understood.
What perplexes me most is at Cecilia's death, her son John, gives names at variance with all the others.
And on his death the Manley name returns.
Considering that Thomas may have left behind another family, it's understandable they may have been "covering their tracks".
Please feel free to correct my handwriting interpretations.
---
1853 Marriage from Bradford
Thomas Handerkin 27 and Cecily Manley 18
???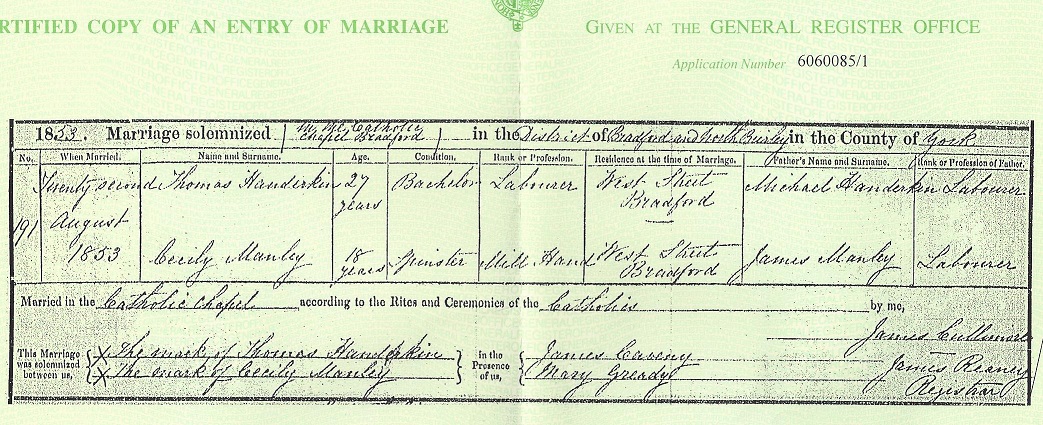 ---
Shipping Records from 1860
Lord Raglan, arriving Melbourne 22 August 1860, Captain Roper
(screenshot of microfiche reader)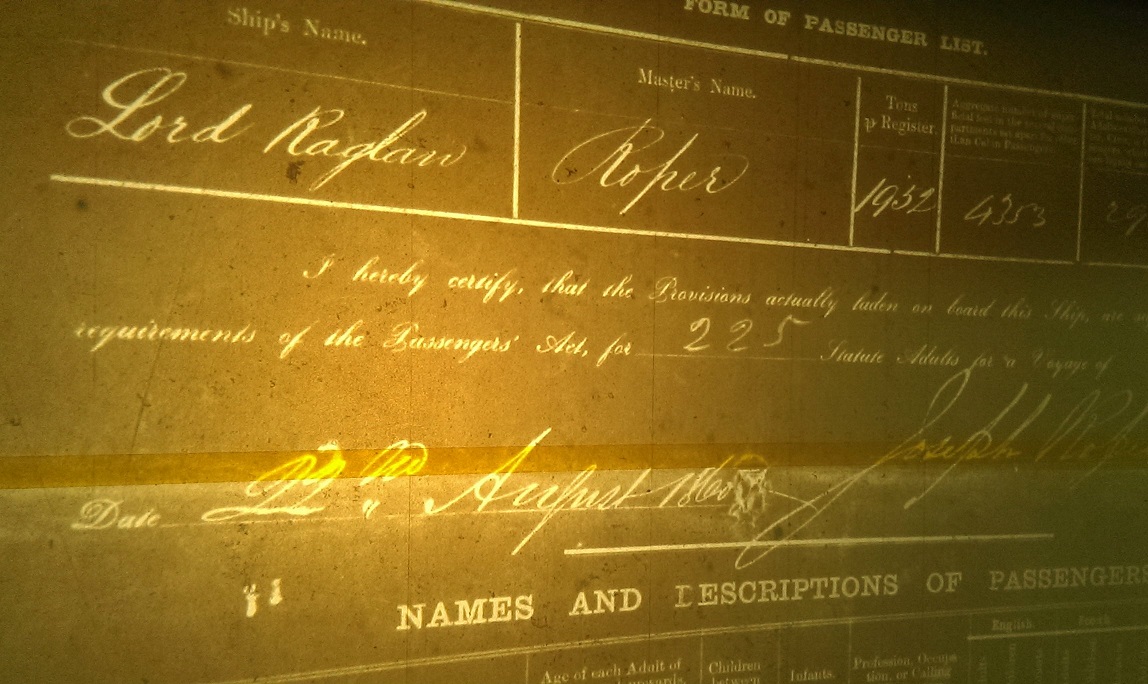 Thomas Hanrahan aged 26
Honora (?? not Cecilia) aged 20
and John, infant (would have been about 4)
again names and dates don't quite match
and there should have been two more younger children, Honora and Thomas

---
1862 : Michael Hanrahan's birth certificate
We see Cecilia's family name as Manly.
Thomas was the informant annotated with "his Mark" indicating he could not write.
Some fibbing with the ages, Thomas was about 50 and Cecilia 25

---
Honora (Annie) Hanrahan Marriage 1873

---
1877 : Thomas Hanrahan's death certificate
We again see Cecilia as "Manly"

---
1880 : Cecilia remarries Michael Murray
Cecilia's family name recorded as Manesy ?
Cecilia's age was now 43 years.
The 7 and 7 refer to children living and deceased
Cecilia signed with "her mark" indicating she could not write.
---
1900 : Cecilia (Manley) (Hanrahan) Murray dies
Here her eldest son John Hanrahan reports completely different parent details.
Is the parent's surname Munnely or Minniby or what?

---
1922 : John Hanrahan's death certificate.
Here we see the Manley spelling.
So Cecilia was 14-20 years old at marriage, Thomas 26-42 years old....